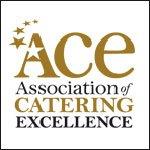 The Association of Catering Excellence (ACE) launches new awards
The Association of Catering Excellence (ACE) last night launched its new awards aimed at showcasing young talent in the world of contract catering. The awards are named after Robyn Jones OBE, founder of CH&Co, who sadly died in September 2015.
The ACE Robyns were created by the ACE committee in memory of Jones, who was known for her tireless work in the mentoring, training and development of young talent.
They aim to recognise up and coming talent in all aspects of contract catering, from chefs to marketers and from butlers to business development staff.
Entries will open from 1 March and people can either nominate themselves or be nominated by a colleague. The awards are open to talented team members aged 35 and under who have what it takes to make a real difference in the industry, whether that's cooking, serving or driving a business forward. Full details of how to enter will be announced on the ACE website, social media and newsletter in the next few weeks.
Speaking at a prestigious wine dinner, which was attended by over 200 guests at Goldsmiths Hall last night (18 February), chair of ACE, Paul Hurren said: "This is the first step on a long journey for ACE to promote the incredible talent that we are seeing from the next generation of contract catering staff. We want to show that contract catering has so much to offer in terms of job opportunities and is an exciting career choice for young people."
There will be 12 finalists shortlisted and the overall winner will be announced at the ACE summer event, which is being held on a Bateaux London Cruise on the 21 July.
Talking about the name of the awards Hurren added: "It didn't take long to work out what these new ACE awards should be called. Having known and worked with Robyn personally for many years, I know she would have loved to be involved with this programme and I am delighted that we are able to continue the good work she started so many years ago. I encourage the whole industry to get behind the ACE Robyns Award and seek out the talented staff members that truly deserve to be recognised in some way."
Entrants and managers have until 20 May to submit their entry or nomination.
The winner will receive dinner and an overnight stay at the Shard, as well as Champagne and lifetime membership of ACE and be the first to join the ACE Robyns hall of fame
https://www.hamiltonmayday.co.uk/wp-content/uploads/2016/02/easid-26829-media-id-17718.jpg
150
150
Simon Curtis
http://www.hamiltonmayday.co.uk/wp-content/uploads/2022/03/hamiltonmayday-300x91.png
Simon Curtis
2016-02-19 09:14:48
2016-02-19 09:14:48
The Association of Catering Excellence (ACE) launches new awards