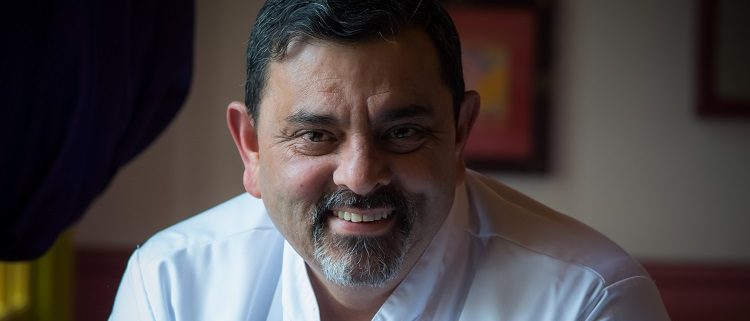 Cyrus Todiwala OBE announces Zest Quest Asia Gala Dinner Menu 2020
Cyrus Todiwala OBE unveils Zest Quest Asia Gala Dinner Menu 2020
The menu, heavily inspired by Goan-Portuguese culinary traditions, will highlight ingredients and produce donated by suppliers loyal to the Zest Quest Asia cause.
The student competition was founded in 2013 by Cyrus and Pervin Todiwala in collaboration with the Master Chefs of Great Britain to help cultivate talent, knowledge and understanding of Asian cuisines.
Six colleges have been chosen to compete in the final cook-off, to be held earlier in the day: Loughborough College, New City College, Sheffield College, University of West London, University College Birmingham and North Hertfordshire College.
Before the dinner, a sumptuous drinks reception hosted by current Zest Quest Asia champions, University of West London, will feature canapes with flavours drawn from their recent prize-winning trip to the Philippines.
Cyrus Todiwala told us: "I've prepared a menu that I hope attendees of our 7th Zest Quest Asia Gala Dinner & Awards Night will find both nourishing and captivating. It is an intricate combination of East meets West, using some very fine quality, seasonal ingredients. In the end, the evening is a celebration and I hope my menu will be judged worthy of all the effort and commitment put in by the colleges and students, as well as the suppliers and sponsors who have thrown their weight behind Zest Quest Asia. I owe it to them, just as the finalists owe it to themselves to do their best to win this competition."
Zest Quest Asia Gala Dinner & Awards Night Menu
FIRST COURSE
ESTILO DE BOMBAIYYA CREMEU A GALINHA EN PASTELARIA – Bombay style creamed chicken in puff pastry
SMOKED DUCK AND HAGGIS SAMOSA WITH RICE
KEDGREE CROQUETTE – Croquette of Arbroath Smoked Haddock blended with rice
SECOND COURSE
PARSEE LAMB BIRYANI PATTICE – Parsee style Lamb biryani patty filled with the lamb
QUEIJO COUVE ARROZ E COGUMELO COM FOLHA DE BANANA – Banana leaf filled with cauliflower, rice cheese & mushrooms with mixed nuts and sultanas
TURKEY CHAAZAAN – Shredded turkey tossed with glass noodles seasoned with garlic, soy, red chilli oil, coriander and soy
MAIN COURSE
FEIJOADA COM ARROZ – Hot Portuguese choriso with kidney beans blended with Goan style pork stew and rice
TART OF WINTER VEGETABLE MEDLEY
CURRY DE COCO VERDE CLARO – Quenelle of Light green coconut curry
Pre-Dessert Sorbet
SOUR CHERRY
DESSERT
Dessert by Chef Jerome Dreux
"We encourage all who are in our industry that share our vision to nurture and cultivate young talent to support this event."
Schedule of the night: (Dress code: smart casual)
18:45 – Drinks Reception
19:30 – Dinner
11:00 – Carriages
Tickets are £90 per person or £850 for a table of 10.
If you wish to book accommodation for the event, please click here to receive the agreed rates starting from £80 bed and breakfast.
https://www.hamiltonmayday.co.uk/wp-content/uploads/2020/01/cyrus.jpg
465
750
Simon Curtis
http://www.hamiltonmayday.co.uk/wp-content/uploads/2022/03/hamiltonmayday-300x91.png
Simon Curtis
2020-01-16 13:15:54
2020-01-16 13:15:54
Cyrus Todiwala OBE announces Zest Quest Asia Gala Dinner Menu 2020