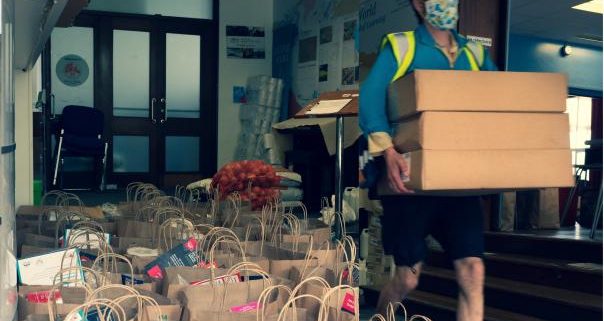 Brighton and Hove receive UK's first Gold Sustainable Food Place Award
The Sustainable Food Places Network is a rapidly growing movement of people in towns, cities, boroughs and counties across the UK working to make healthy, sustainable and local food a defining characteristic of where they live.
Tom Andrews, of Sustainable Food Places said: "It's amazing to present this award to Brighton and Hove, recognising the extraordinary innovation and effort to change attitudes and perceptions about food and create a more sustainable food system.
"The Covid-19 pandemic has shown just how important it is that people have healthy diets and can access affordable, healthy and sustainable food no matter who they are or where they live. But the pandemic has also shown just how resilient communities can be when they work together to help those most in need, and nowhere more so than Brighton and Hove.
"In achieving this first ever Gold Sustainable Food Places Award, Brighton and Hove has shown what is possible in transforming a local food system for the better.
"Recognising that food is not only at the heart of some of today's greatest challenges but is also a vital part of the solution, Brighton and Hove Partnership are leading a vanguard of more than 50 pioneering local food partnerships and creating one of the fastest growing social movements in the UK today."
Brighton and Hove Food Partnership Director, Vic Borrill, said: "We have coordinated this bid, but the activities and achievements in it are not ours alone- they belong the whole city and beyond. Food has never been so important.
"It is a lens for understanding the most complex problems. It has the power to bring people together and changes lives. The approach brought together businesses, community and voluntary groups, local authority departments and individuals across the city.
"Because of our collaborative approach Brighton and Hove is one of the few areas of the UK bucking the trend on childhood obesity, has breastfeeding rates 25% above the national average and has tripled the number of community gardens."
Through local food partnerships involving local authorities, charities, businesses and community groups, the Sustainable Food Places Network is using good food to tackle some of the biggest social, economic and environmental issues today, food poverty and obesity and the decay of our high streets and the disappearance of family farming to climate change, biodiversity loss, pollution and waste.
Brighton and Hove was the first city in the UK to create a citywide food strategy, the first to have food growing written into planning guidelines for new residential developments and the first to require all Council food procurement to meet minimum health and sustainability standards.
Borrill added: "Tackling food poverty is a great example of Brighton and Hove's pioneering, proactive and joined-up approach.
"Spurred by a survey revealing one in five residents did not have enough money to meet their basic living costs including food, Brighton and Hove Food Partnership began to focus on the issue in 2012.
"An Emergency Food Network was set up and food poverty became a galvanising focus for the city via the 2015-2018 Food Poverty Action Plan."
She said that when Covid-19 hit, the Food Partnership launched the 'Hungry at Home' fundraising appeal and the Emergency Food Network became the vehicle for an astonishing citywide emergency food response to the pandemic lockdown.
As well as signposting thousands of people in need, a central food-processing hub was established, where wholesale and surplus food was organised and distributed to food banks and meal projects across the city by a team of volunteers. The city's businesses, residents and mutual aid groups stepped in to ensure an unprecedented response.
Recognising that food banks were not the answer to food poverty, the city is now taking a more preventative approach. For example, the Food Partnership is working with residents to pilot several affordable food schemes, bringing good quality, low cost, nutritious food to areas outside the city centre.
"Brighton and Hove's approach to food poverty is widely recognised and is now a model for other places.
"The city's strong and vibrant voluntary and community sector is another winning factor, with reported 51% of adults in the city volunteering at least once a year, contributing 4.5m volunteer hours."
Speaking about Brighton and Hove's Gold award, chef, food writer and campaigner Hugh Fearnley-Whittingstall said: "The word 'crisis' has been bandied around a lot in the last year – and not without good reason.
"Health crisis, a looming economic crisis and a climate and biodiversity crisis. They are all linked of course, and the solutions are linked too.
"We need to move to a food and farming system that is good for people and good for the planet. One that values a huge variety of whole foods – mainly plants – above the endless industrial processing of a small number of industrially farmed crops: wheat, maize, rice and soya, for example, and meat farmed on such a scale that it devours a third of the world's cereal crops.
"Such a transition requires urgent and radical action at both a national and local level, by governments, by businesses, and by communities. As the first UK city to achieve the Sustainable Food Places Gold Award, Brighton and Hove have raised the bar.
"They have hugely improved access to affordable good food and nurtured a food system that promotes people's health and livelihoods while protecting the local and global environment.
"Their work across the city, led by the Brighton and Hove Partnership, is a massive achievement and a model of effective collaboration that I hope every place in the UK will adopt. I salute them and congratulate them on this well-deserved award."
The Sustainable Food Places programme is led by the Soil Association, Food Matters and Sustain – the alliance for better food and farming. It is funded by the Esmee Fairbairn Foundation and the National Lottery Community Fund.
More than 50 areas across the UK are involved with the Sustainable Food Places Network and more are joining every year.
Written by
David Foad
and published by Public Sector Catering – publicsectorcatering.co.uk
https://www.hamiltonmayday.co.uk/wp-content/uploads/2020/11/Brighton.jpg
397
604
Simon Curtis
http://www.hamiltonmayday.co.uk/wp-content/uploads/2022/03/hamiltonmayday-300x91.png
Simon Curtis
2020-11-30 11:34:45
2020-11-30 11:34:45
Brighton and Hove receive UK's first Gold Sustainable Food Place Award